Greater Yellowstone Field Reports
In conjunction with my artist residency at the Teton ArtLab in Jackson, Wyoming, I participated in the annual Boston Fun-A-Day project by posting a daily "Field Report" for the month of January. These Field Reports are documentation of my Teton ArtLab experience including research, landscape exploration and work-in-progress. Field reports took the form of mixed media drawings, maps, diagrams, design studies, photographs and one-page proposals. Each Field Report image is coupled with a few lines of text.
Select Teton ArtLab Field Reports were exhibited at Aviary Gallery in Jamaica Plain, Massachusetts in March 2015 as part of the annual Boston Fun-A-Day project.
January 1 Field Report
Packing for tomorrow's departure to Jackson, WY. Also enjoyed a five hour "brunch" with friends and family at Fort Chauncy as the perfect send-off to the new year's first adventure. Happily explained the immenent Teton ArtLab project countless times: "I'll create a series of research-driven maps that represent the pressures on Greater Yellowstone's ecological landscape and its natural resources, with a particular focus on relationships between environmental tourism and conservation.
January 2 Field Report
Breaking it down. Analysis of Greater Yellowstone Ecosystem and related cultural landscape started today in earnest. Continue to develop base map and experiment with graphic framework.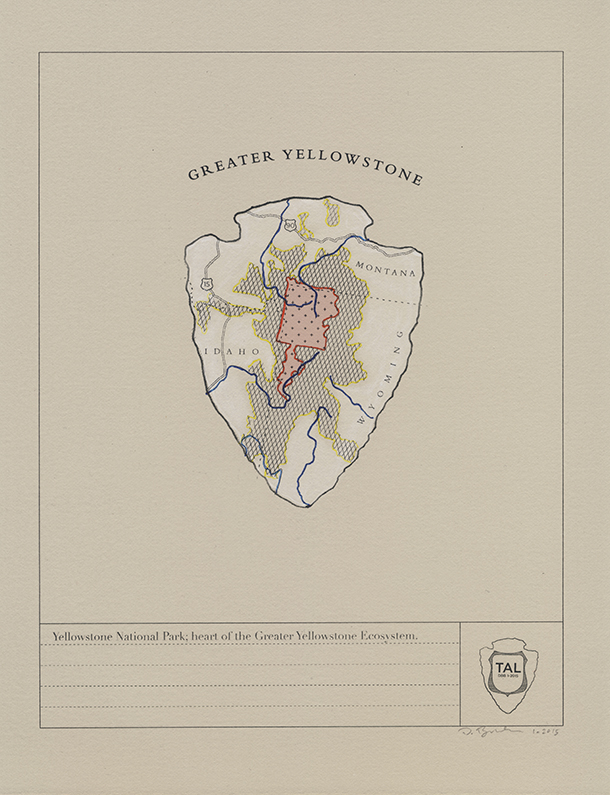 January 3 Field Report
Heart of the Greater Yellowstone, mixed media drawing on paper (8"x10"). Emotional mapping in response to community outreach postcard in which Jackson stakeholders are asked to rank the top three places they're willing to protect. This NTS map represents one respondent's rhetorical question to me, "Without Yellowstone National Park, what is Wyoming?" Yellowstone National Park is the heart of the ecosystem and regional identity.
January 4 Field Report
Unsolicited "TreeFighter" Installation Proposal No. 2: Stick Grenades. Dead whitebark pine trunks topped with up-cycled 55 gallon drums as a roadside reminder of the insidious impact of the internal combustion engine on regional landscape ecology.
I had a long inspiring conversation with photographer and activist David Gonzales of TreeFight. If you are unfamiliar with the ongoing ecological crisis of the whitebark pine beetle within the Greater Yellowstone Ecosystem, I encourage folks to conduct a google search of "TreeFight."
January 5 Field Report
Studio View. Pickup truck plowing sidewalk outside of studio as snow slowly piles up. I can't seem to escape the black flag motif…seems to be a readymade graphic framework. Town has seemingly emptied out as folks head to the mountain to ski. Highway closed in evening due to hazardous road conditions.
January 6 Field Report
Elk Herd off Rt 89. I had the privilege to meet with the folks of Craighead Beringia South to talk landscape ecology and mapping today. CBS conducts a variety of interesting landscape ecology studies, including work on the impact of hunting and lead exposure in bald eagles from big game hunting such as moose and elk. More information about CBS and there work can be found here.
January 7 Field Report
Wall Drawing Design Development. Sol LeWitt climbs the Grand Teton. Mixed media study on paper (8"X10") for wall drawing proposal at Teton ArtLab. Exploring new ways to represent the Teton landscape and the agencies responsible for its management.
January 8 Field Report
Unsolicited Landform Education Proposal for the National Park Service. Simple section drawings abstracted from the National Park Service logo as a graphic invitation to develop knowledge of regional landform names, attributes, and classification.
January 9 Field Report
Sol LeWitt Climbs the U.S. Forest Service's Sleeping Indian (Sheep Mountain, Gros Ventre Range). Mixed media study on paper (8"X10") for wall drawing at Teton ArtLab studio. I managed to see the majestic, distant "sleeping indian" as the sun set today in Jackson Hole valley.
January 11 Field Report
Unsolicited one-page proposal for TreeFight Installation. TreeFight Proposal No. 3: Two mock missiles made from dead whitebark pine trunks, mounted to corten steel interpretive sign communicating ongoing strategies to fighting the root causes of the whitebark pine beetle crisis within the Greater Yellowstone Ecosystem.
January 10 Field Report
Topo Render Study for Greater Yellowstone Area, digital drawing (ArcGIS, PS, AI, Scanner & Willie Nelson). GIS source includes ColorReliefSlopHillshade image export combined with GMTED75_Hillshade_1_ROI. Huge thanks to Trapper Haynam at Craighead Beringia South for providing the spatial data files.
January 12 Field Report
Post Art. First week's worth of "Field Observations" have been mailed back East and West. I left my address book in Cambridge, so please email me if you are interested in receiving a "post print" in your mailbox. All are welcome.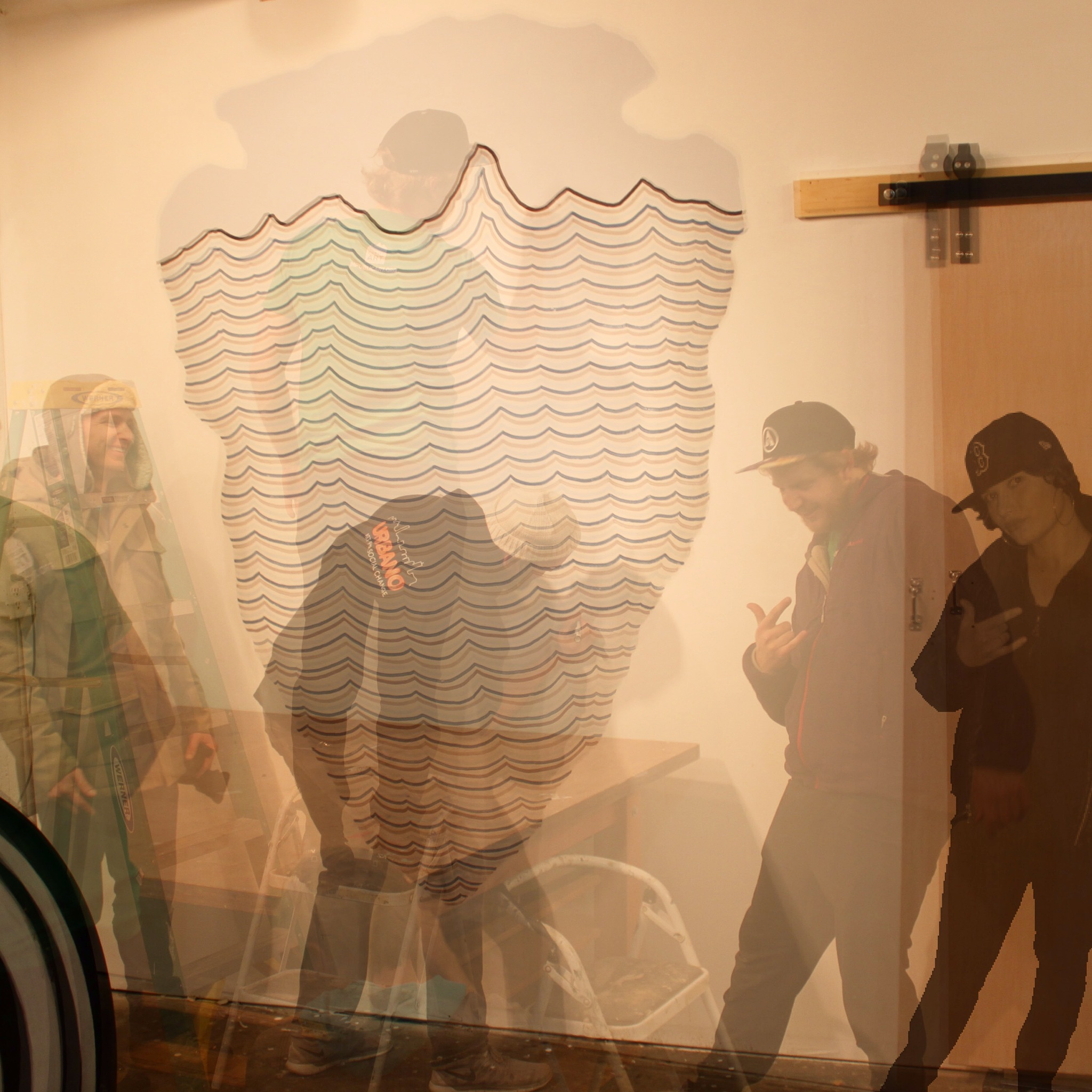 January 13 Field Report
Sol LeWitt Climbs the Grand Teton, mixed media wall drawing (6'x7'), acrylic paint and Chartpak AD markers. Time-lapse montage of wall drawing process, with Travis Walker and Scotty Craighead in the Teton ArtLab's shared studio space.
January 14 Field Report
Valley View. Six straight days of wintery overcast, fog and cloud inversions, sent me on a field trip to Teton Pass in search of sunshine. Teton Pass is a high mountain pass (8,400 feet) at the southern end of the Tetons between Wilson Wyominf and Victor, Idaho. Beyond stunning views, Teton Pass is known for its avalanches, narly backcounty skiing/snowboarding (i.e. Glory Bowl) and treacherous winter road conditions.
January 15 Field Report
Color-treatment study drawing. NTS map inspired by old Sanborn Fire Insurance maps and ongoing research into the Yellowstone bison habitat.
January 16 Field Report
Speculative Agency. No one knows how a consolidated ecosystem management would play out on the Greater Yellowstone landscape, but the "Super Agency" logo might look something like this hybrid brand identity.
January 17 Field Report
Bighorn'd Attitude . Toured the National Elk Refuge today to see some of the 7000 estimated wintering elk and a couple dozen bighorn sheep that had been spotted that morning (the talk of the Cowboy Coffee shop). The Refuge managed by the US Fish and Wildlife Service, plays an important role in both the landscape ecology and local economy of Teton County. Even so, after licking the bumper of the Teton ArtLab 4X4 (Salk Lick Food Truck) this bighorn ram threw us his best "locals only" stink-eye.
January 18 Field Report
Sol LeWitt climbs Miller's Butte at the National Elk Refuge (managed by the U.S. Fish & Wildlife Service) in search of bighorn sheep. Mixed Media study drawing on paper (8X10") for wall drawing.
January 19 Field Report
Mixed Media NTS Map. Bison bison as ecological engineer casts a long shadow on the ecosystem of Yellowstone National Park and continues to influence the Yellowstone landscape, park management and political boundaries.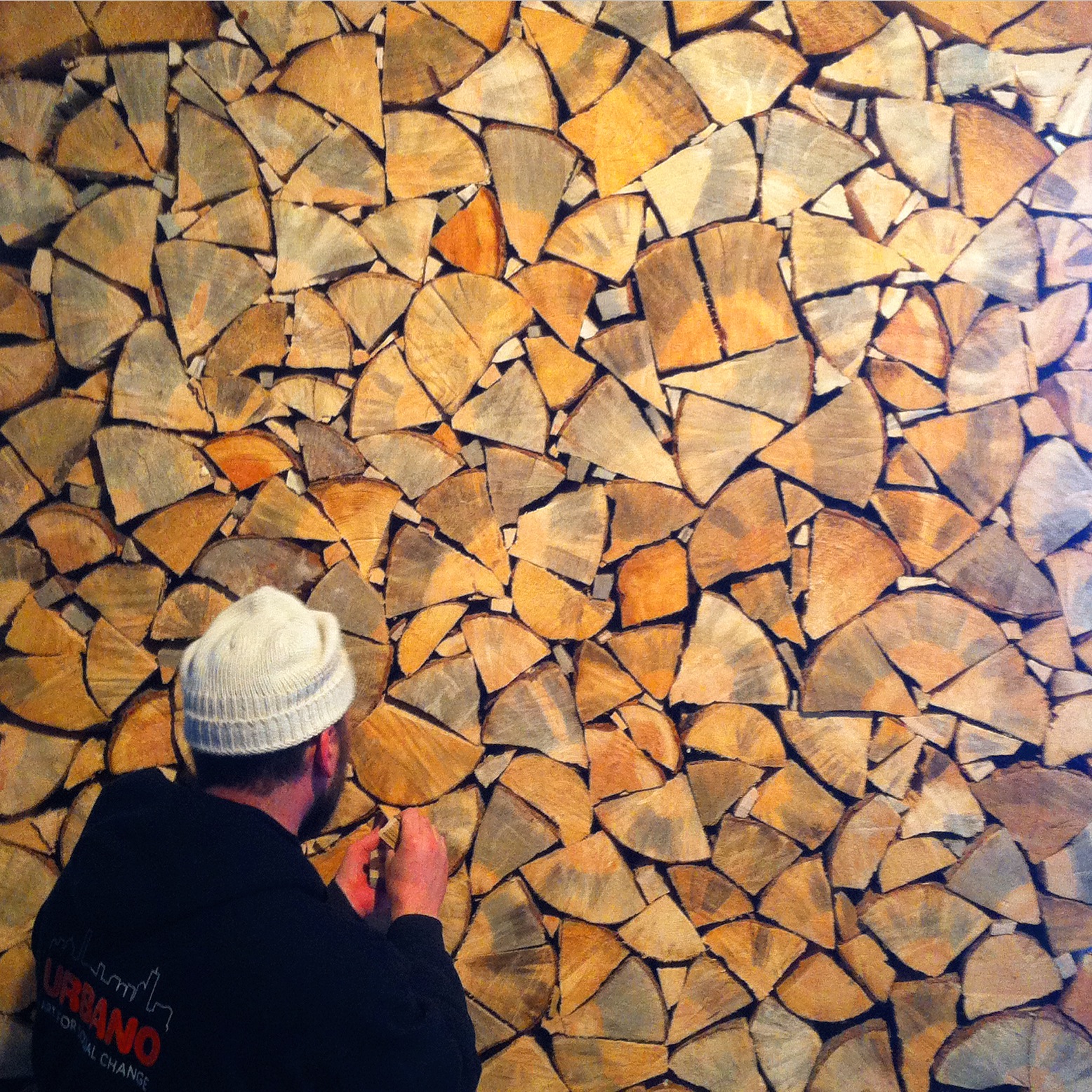 January 20 Field Report
Canvas Stretch. Preparing a 5'x8' lodgepole pine canvas for a mixed media woodpile installation with Scotty Craighead in the Teton ArtLab common space. Its interesting to note that the blue tinge visible in most of the wood is evidence of the tree's cause of death, pine beetle infestation.
January 21 Field Report
Greater Yellowstone Ecosystem KO, mixed media drawing on paper (8"x10"). Whitebark pine beetle "NTS Map" inspired by spatial mapping of whitebark pine mortality research by William"Wally" Macfarlane, Jesse A. Logan, and William R. Kern, 2013. I'm grateful for Wally et al. for conducting the research (using EcoFlight, an innovative aerial survey method) and sharing the spatial data files with me.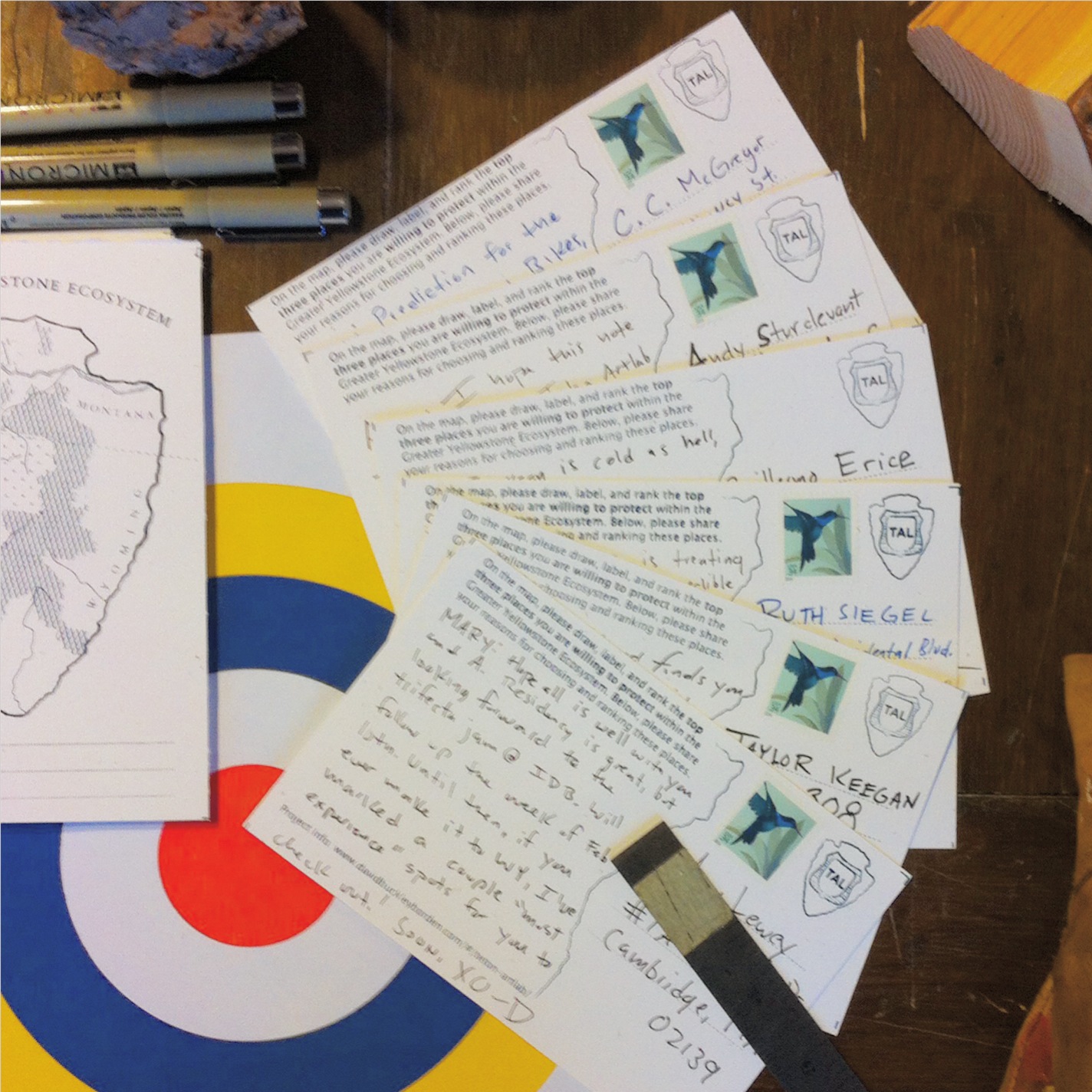 January 22 Field Report
Post Art. Third week's worth of "Field Observations" have been mailed back East, West, South and the EU. Email me if you are interested in receiving a "post print" in your mailbox.
January 23 Field Report
Work-in-Process Map, detail, digital drawing. Teton Urban Wilds base map and format are nearly complete. I could not have done it without the generous GIS support from Leslie Steen at the Jackson Hole Land Trust.
January 24 Field Report
Snake River with the Teton Range Beyond. Even given the area's seemingly endless list of incredible landscapes, the Snake River may be my favorite place to explore. Given its stunning qualities, it is no surprise that there are dozens of organizations dedicated to the river system's health and ecological well-being. The most inspiring restoration group may be Friends of the Teton River. Learn more about the group and their efforts here.
January 25 Field Report
Discussion Maps. Mapping postcard study and Teton County base map for open-studio at Teton Artlab. Great feedback and informed insight from the ecologically-minded Jackson community.
January 26 Field Report
Kearns Meadow/Flat Creek, Jackson, WY. Conservation, infrastructure, and performative ecological design all wrapped into one stunning 41 acre package. The native willow plantings look spectacular in the snowscape on a clear blue winter day. Kearns meadow is a great case study featuring a successful private-public conservation project in an "urban" area with high property values.
January 28 Field Report
YurtLab, Kelly, WY. The private "Yurt Camp" in Kelly may be one of the best kept secrets in Jackson Hole. The down-to-earth Yurtian community is a welcome counter to the tourism-driven buzz of downtown Jackson.
January 27 Field Report
Speculative Agency, mixed media installation (lodgepole pine, acrylic paint) at Teton ArtLab. Collaboration with Scotty Craighead and Travis Walker. Photography by Scotty Craighead.
January 29 Field Report
Compass Rose Design Development, mixed media on paper (8"x10"). Creative development of "North arrows" for project maps as influenced by Native American symbols representing the earth, moon sun, heavens, cardinal directions.
January 30 Field Report
Greater Yellowstone Ecology Map (Work-in-Progress), mixed media drawing (30"x24"). Map features whitebark pine mortality from pine beetle infestation and select installation proposals for building awareness of ecological crises within the region.
January 31 Field Report
Stack Study, mixed media. Final experiment at the Teton ArtLab, as I continue to explore alternative approaches to communicating environmental issues.
The Residency proved to be a productive experience in terms of both research and creative experimentation. I'm grateful to the Jackson community for their support and encouragement over the last month. I highly recommend folks visit the Teton ArtLab website to learn more about the Residency.