Novel Ecosystem Generator
Novel Ecosystem Generator, public art Installation at Gregg Museum of Art and Design, NC State, Raleigh, NC, October 2019 to March 2020. Collaboration between David Buckley Borden and Dr. Aaron M Ellison for Art's Work in the Age of Biotechnology: Shaping Our Genetic Futures exhibition, curated by Hannah Star Rogers.
The Novel Ecosystem Generator is a kinetic public art installation designed to represent a process engine that takes in existing genes, organisms, or entire ecosystems, restructures and rearranges them, and outputs new biological systems. The sculpture physically enacts the idea that new ecosystems are generated by inputs through a machine: it points out that whether or not we intend to create new ecosystems, there are a set of processes that shape them. The before and after conditions represented in the artwork challenge viewers to consider profound examples of this Anthropocene phenomenon.
People are constantly disassembling, rearranging, and restructuring genes, organisms, ecosystems, and the environment. This process of creating novel ecosystems occurs both deliberately and unintentionally, creating consequences that range from the predictable to the unimaginable. Deliberate cross-breeding, production of genetically modified organisms (GMOs), introduction of "gene-drives" for mosquito control, or gene splicing using CRISPR all result in the introduction of new kinds of plants and animals. These intentional introductions engender new interactions in ecosystems that may have been in place for millennia.
Similarly, people transport species from state to state and between countries, leading to the arrival and spread of introduced species in new places. These movements of species and their interaction with native organisms, coupled with ongoing, human-caused changes to the land, sea, and climate, together lead to unexpected and unintended consequences. Such "unintentional genetic engineering" is happening continuously and, like its intentional counterpart, has great potential to generate new and unexpected ecological relationships.
Borden and Ellison's sculpture prompts us to think about our individual and collective responsibility for the environmental changes we have created—and continue to create.
About the Exhibition
Art's Work in the Age of Biotechnology: Shaping Our Genetic Futures is an art-science exhibit and symposium of artists, scientists, and humanities scholars, led by the the NC State University Libraries and the Genetic Engineering and Society Center, held at the Gregg Museum of Art & Design, the physical and digital display spaces of the NCSU Libraries and the North Carolina Museum of Art (NCMA). These activities will elicit discussion about genetics in society through the lens of contemporary art and offer viewers new ways to think about their role in the genetic revolution.
By combining science and art and design, the artists, and artworks chosen for display, will contextualize genetic engineering by bringing it out of the lab and into public places; challenging viewer's understandings about the human condition, the material of our bodies, and the consequences of biotechnology. The exhibit(s), integrated curriculum, and cross-campus dialogues will raise awareness and discussion about biotechnologies and their consequences in our society, while drawing in art practices for reaching new communities.
Learn more about the exhibition here.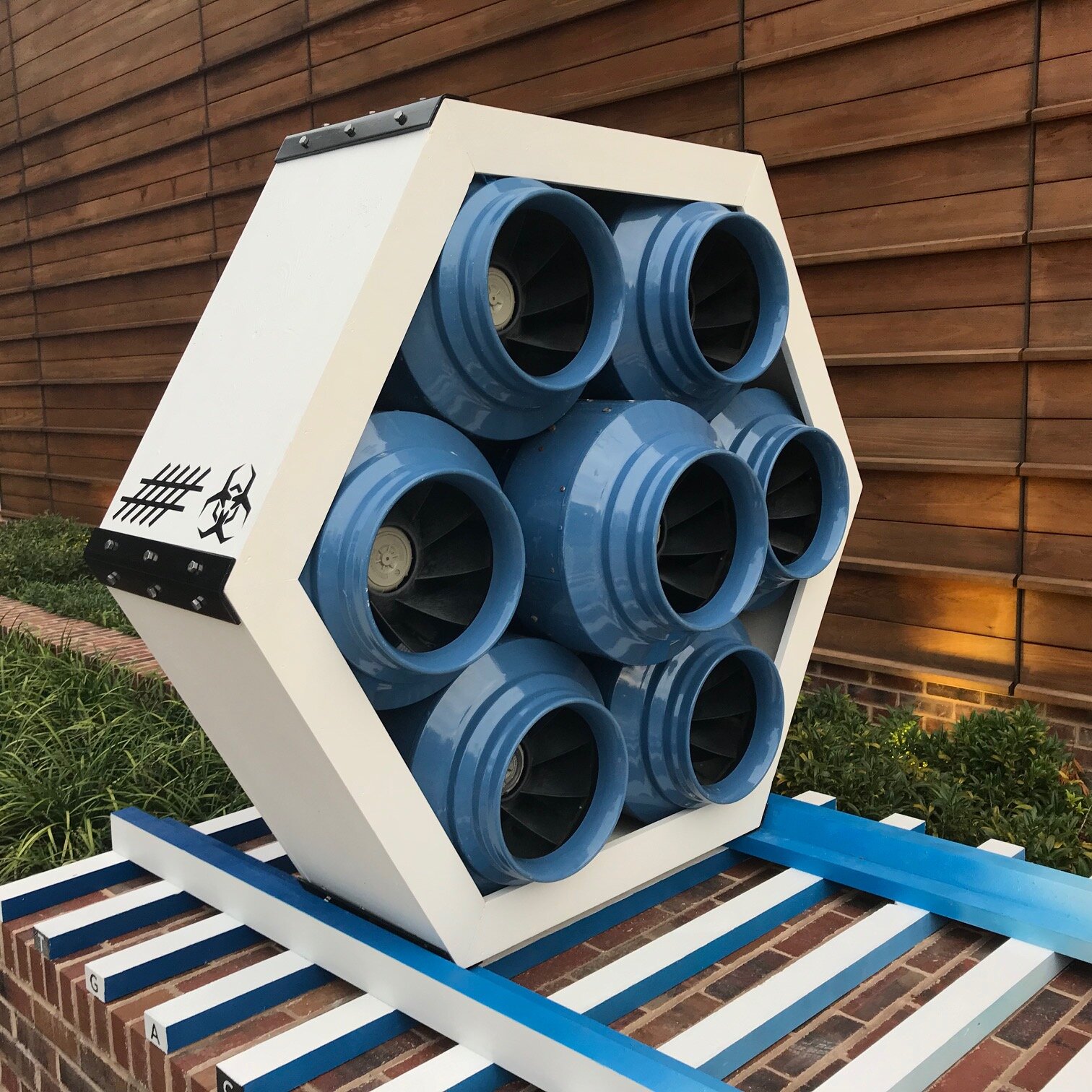 Novel Ecosystem Generator made in part from recycled research field equipment at the Harvard Forest. Array of centrifugal fans spin with breeze.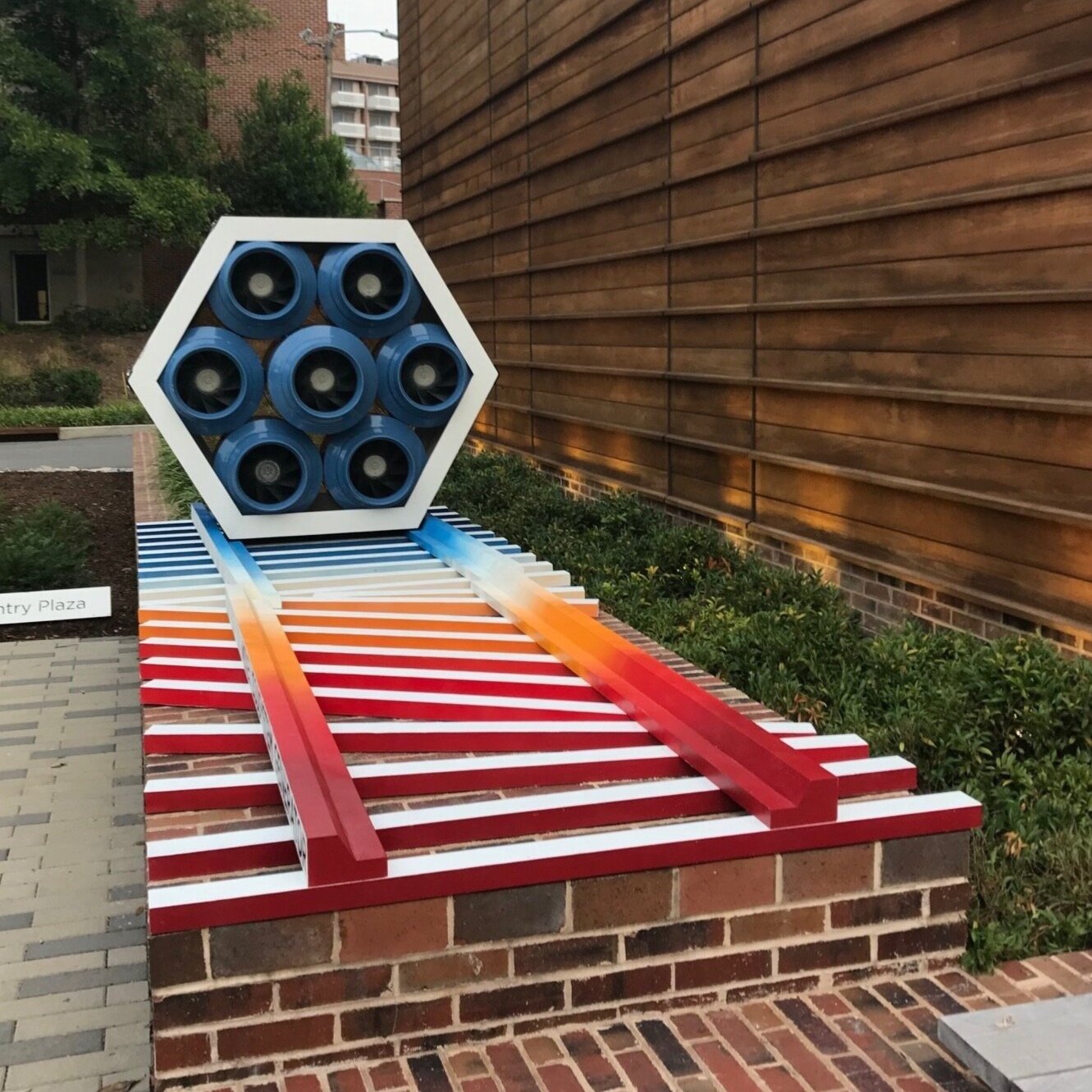 Safety feature turned op art detail on backside of Novel Ecosystem Generator.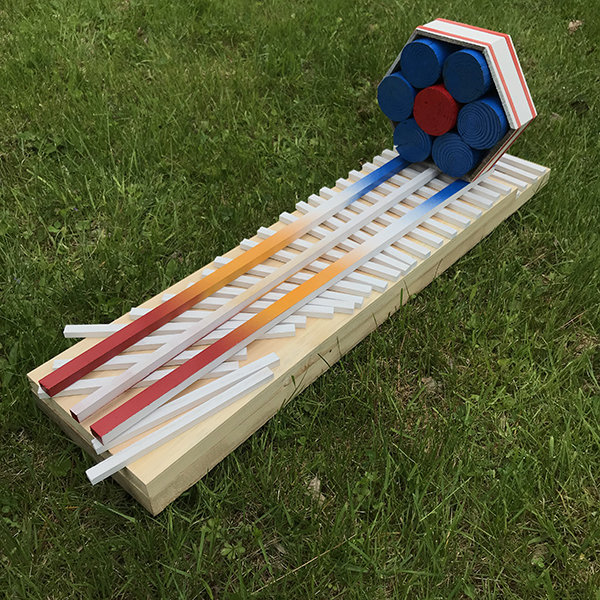 Novel Ecosystem Generator, concept model, wood, rubber bands, acrylic paint, 2 x 7 x 21 inches, 2019.