Landscape-A-Day
I participated in the Boston Fun-A-Day 2014 project by developing 31 one-page landscape installation proposals during the month of January. The work was a freewheeling exploration of the New England landscape and our cultural love affair with the region's "great outdoors." Accessibility by the general public was central to the proposals in service to landscape appreciation and ecological awareness.
Beyond the 31 drawings, the ultimate goal of this project was a brainstorming exercise for a design-build project. Several of the proposed landscape installations were further developed and constructed as part of my participation in Trifecta Edition's Hibernaculum Artist Residency Program.
Exhibition Information:
Fun-A-Day Boston 2014
Art Show & Reception
Hosted by Voltage Coffee & Art
Opening Reception February 21st, 7-9pm
February 17th through April 5th. 2014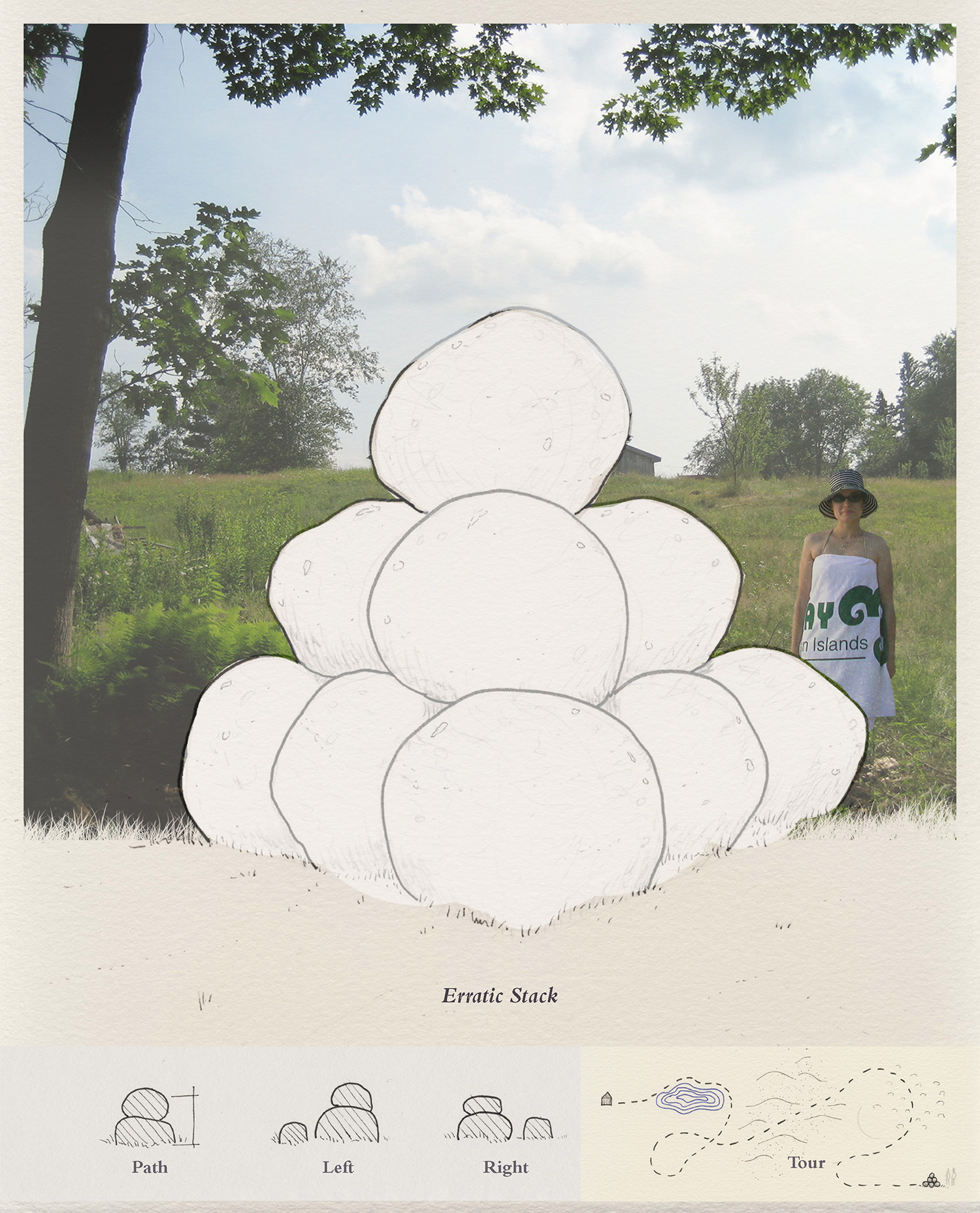 Jan 1: Stacked Erratic Tour
Proposal: Self-guided glacial feature tour. Includes kettle pond, eskers, boulder field and the erratic stack. Designed experience as a celebration of glacial activity including the acceptance of the Anthropocene epoch.
Jan 2: Advertising Barn for Vermont Tourism Board
Proposal: In the tradition of the North American advertising barn, celebrate the quiet solitude of a wifi "dead zone" in the mountainous back roads of Vermont, the Green Mountain State.
Barn Image Source: Simmonds, WILLIAM G., Advertising Barns, Vanishing American Landmarks, St. Paul: MBI Publishing, 2002.
Jan 3: Roadside Stone Jump Maze
Proposal: Roadside jump maze of granite boulders on hillside. Rules: Keep off the grass and stay on the rocks. First one to get to the top wins shotgun seat and control of iphone mix.
Jan 4: Secret Glow-in-the-Dark Canoe Tour
Proposal: Stones painted with clear glow-in-the-dark paint and arranged underwater in the form of directional arrows. Stone arrows blend into shallow lake bottom during day light hours and only reveal "hidden" path after sunset. Arrows guide canoe tour to clandestine destination and moonless adventure of Eagle Lake…[Cue Loon]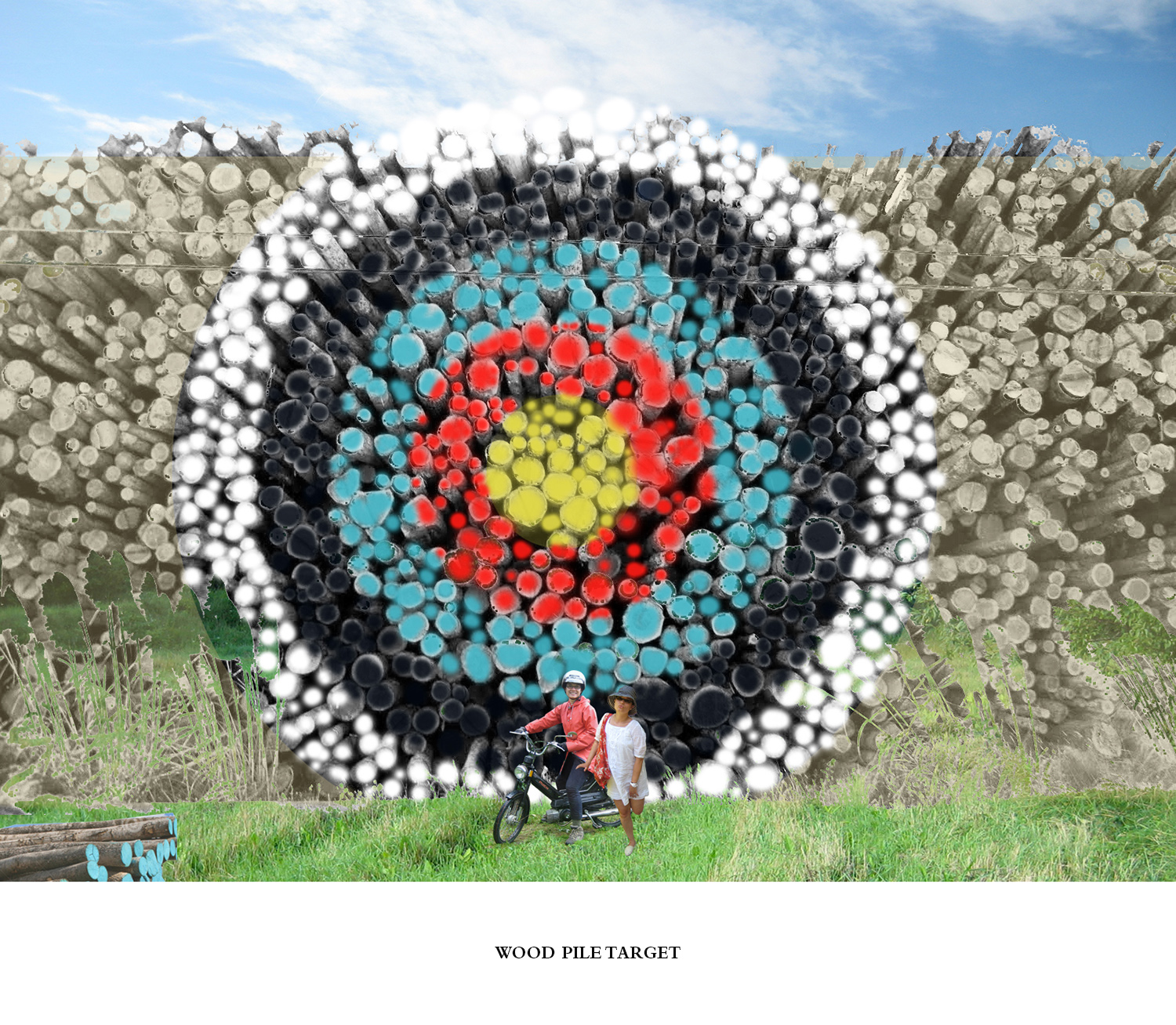 Jan 5: Wood Pile Target
Proposal: 30-foot target supergraphic (spray paint cut ends of timber log stack) for forestry awareness campaign.
Jan 6: Cellar Hole Memorial
Proposal: Commemorate the nearly forgotten rural homestead of yesteryear with rough-hewn timbers arranged to spell out "1811," the year the home was built. Wood is burnt for preservation and contrast and laid in bottom of existing hand-built stone cellar hole. Winter midnight viewings encouraged.
Support: I'm actively looking for old cellar holes within New England that are available for land art installations. Leads welcome.
Jan 7: Cellar Hole Fun
Proposal: A cellar hole for the kids, the vernacular of play, the foundation of fun.. Just add plastic "fun balls" to desired depth (minimum of 30 inches) to structurally sound stone foundation and make architectural history relevant to the kids.
Jan 8: Turkey Trail Markers
Proposal: Wayfinding design for woodland path network at Eagle Lake, NY. Coded trail markers consist of maple log, cordage and dyed turkey tail feathers.
Jan 9: Stone Wall Beacon
Proposal: Stone wall beacon. Loose "tossed" stonewall constructed over internal steel cage which houses light source. The stonewalls day time shadows are transformed into night time highlights.
Jan 10: Razzle Dazzle Ships
Jan 11: Veterans' Day Wood Pile Contest
Proposal: Veterans' Day wood pile contest as community building event for Historic Harrisville in Harrisville, NH.
Jan 12: Woodland Protector
Proposal: Woodland protector for Warden Woods. New England Woodland spirit statue to ward off invasive species including but not limited to Fallopia japonica, Berberis thunbergii, and the dreaded Celastrus orbiculatus.
Jan 13: Bespoke Logs
Proposal: Bespoke logs for your bespoke axe as a bespoke commentary.
Jan 14: Interpretive Watershed Markers
Proposal: Increase local watershed awareness relative to regional hydrologic system. Interpretive "signs" communicate stream orders within the Merrimac River watershed. Each stream order is represented with one granite chevron (third-order stream represented in illustration). Chevrons are engraved with the distance from headwaters as well as distance to the Atlantic Ocean.

Jan 15 Proposal: Take a Long Walk
Proposal: Take a long walk in Ticonderoga to the naturally formed glacial boulder that looks like a human head. Take a canteen and bug juice.
Jan 16: Glow-in-the-Dark Striped Road Cut
Proposal: Engage motorist and celebrate roadside geology on the darkest of lost and lonely highways. Fill the slightly angled drill-hole lines (remains from road cut dynamite operations) with glow-in-the-dark paint for a fresh take on the roadside attraction. Beware of teenagers.
Jan 17: Shade Collection Box
Proposal: A simple reminder of the value of canopy trees, made with a recycled box and paint pen of your choice.
Jan 18: Glacial Place Branding
Proposal: Celebrate the 800-mile journey of a glacial erratic boulder from its origin in Canada's Hudson Bay Region to its current resting place. Boulder is painted in Hudson's Bay Company's iconic four-color striped pattern and trademark coat of arms. Place-branding enters the glacial field.
Jan 19: Conceptualism Cycle Tour Mile Marker
Proposal: Cycle the Monadnock Region's back roads as you tour the area's best kept secret; a twelve-mile self-guided conceptual art tour. Maps and Google Tour glasses available at General Store in Harrisville, NH. Helmets strongly recommended.
Jan 20: Nurse Log Field
Proposal: Formalize nature's "nurse log" phenomenon with this ecological intervention by arranging logs in the form of a Swiss cross within temperate woodland. Jump start the germination field with a bed of moss, leaf litter and hemlock seedings. Weed out unwanted species annually. Practice patience.
Jan 21: Yes
Proposal: Say, Yes. Yes to wetland protection. Yes to road trips. Yes to skinny dips. And yes to "yes" spelled out in coir cursive.
Jan 22: Glacial Gift Pack
Proposal: Celebrate the glacial gifts of the Wiconsinan Ice Age. Dye rope to the color of your fancy and highlight six-pack of glacial boulders with a bit of festive gift-wrapping. Commence rock party.
Jan 23: Wet Meadow Vanes
Proposal: Highlight the dynamics and diversity of the wet meadow. Vertical sticks trace brook within meadow. Sticks are topped with painted arrows, which are inserted into bottles. Arrow swings and points into wind as bottle serves as bearing for stick. This simple weathervane* also serves as desirable bird-perch within regional landscape's ecological hot spot.
*Based on 18th century American folk art, as reported by Eric Sloane in his 1962 booklet "Diary of an Early American Boy."
Jan 24: Bastille Day Flag
Proposal: Tidy up side-yard of the old Down East back-to-the-lander with the dozen spent VW vans. Provide ladder and seating for grassroots "Etat du Maine, Bastille Day" fireworks night.
Jan 25: Flag for Education
Proposal: Flag ecological points of interest with classic signal flags as part of landscape ecology tour for youth. Nurse stump represented by medical flag and naval signal flags for "N" and "S." Host low-stress campfire quiz at day's end.
Jan 26: Undead Landscape
Proposal: Bring Successional landscape back to life with the help of a 19th century zigzagging stonewall. Punctuate wall with a moss-covered boulder and accent form with occasional dab of glow-in-the-dark paint.
Source: Successional landscape diagram from Eric Sloane's 1955 publication, Our Vanishing Landscape, Ballantine Books, NY.
Jan 28: Snack Stand
Proposal: Re-zone abandoned Pileated Woodpecker (Dryocopus pileatus) nest as Snack Stand. Stuff sweet fruit in old nest and existing feeding excavations along tree trunk. Wait for creepy crawlies to arrive and then let the snack shacking begin.
Jan 29: LARE Riddle
Proposal: Fill in the blank.
Andrew called, he wants his _____________ back!
Jan 27: Flannel Flâneur
Proposal: Travel program featuring the rural discoveries of the new American Flannel Flâneur. Weekly episodes explore the place and people of rural New England through the lens of its landscape. Volume I crisscrosses Maine timber country and covers a variety of interests from regional woodland ecology to the details of woodpile instruction. Log landings, skidders, paper men, bottle cap clubs, nurse stumps, the growing woodpile art movement and more are captured in this stunning study of the cultural landscape of Maine.
Jan 30: Liberty Snake Pit
Proposal: Up-cycle 19th Century cellar hole to serve as habitat for the benevolent garter snake (Thamnophis sirtalis) with alternating bands of ground cover and stone. Plant band of trees for light-shade. Stock pit with snakes and provide initial feeding, if necessary. Yes, the Liberty Snake Pit is tread free.
Jan 31: Camp Cone
Proposal: Environmental education in woodland summer camp format. Camper favorites include: bow and arrow construction, poison ivy identification, and seed bombing. Space is unlimited.