Teton ArtLab
David Buckley Borden Greater Yellowstone Ecosystem art and design residency at Teton ArtLab, Wyoming, WY.
Community Outreach: GYE Postcard, Silkscreen, 4"X6"
I welcomed the greater Jackson community to contribute to project research with outreach postcards. The postcards helped collect spatial data and initial community impressions on local land-use practices and environmental attitudes. The postcards initiated many meaningful conversations.
One-Page Proposals: Treefight Proposal No.2, Digital Drawing, 8"X10"
Inspired by 36 informational interviews with Jackson stakeholders, I developed a series of unsolicited One-Page Proposals. The proposal pictured was created for Jackson-based activists TreeFight, in support of their ongoing effort to address the whitebark pine beetle crisis in the Greater Yellowstone Ecosystem. Learn more about TreeFight and their inspiring work to fight the whitebark pine beetle here.
Not-to-Scale (NTS) Maps: GYE KO, Mixed Media, 8"X10"
I developed a series of Not-to-Scale (NTS) Maps as studies. The NTS Map pictured was inspired by recent research mapping of whitebark pine mortality by William "Wally" Macfarlane, Jesse A. Logan, and Wilson R. Kern. They conducted the research using EcoFlight, an innovative aerial survey method. I'm grateful to Wally et al. for sharing their data to inform my Greater Yellowstone Ecosystem maps.
Design Development: Compass Rose Resign, Mixed Media, 8"X10"
The open format of the Teton ArtLab residency promoted experimental design development. Creative exploration was driven by both research and the direct experience of the Teton landscape. The compass designs pictured are influenced by research at the Teton County Library on Native American symbols representing the earth, moon, sun, heavens, and cardinal directions.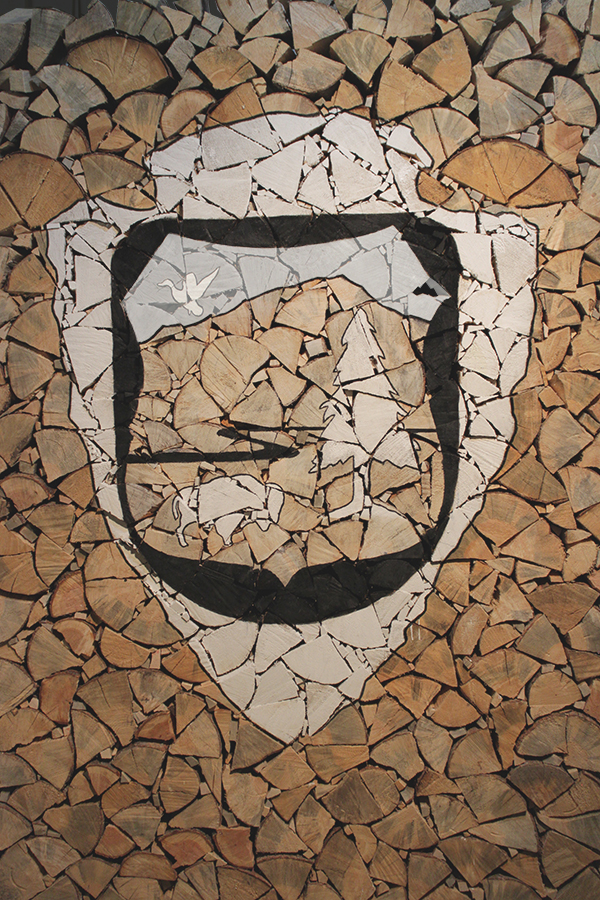 Installation: Speculative Agency, Mixed Media Installation, 5'X8'X2'
The residency provided installation opportunities within the Teton ArtLab space. The mixed-media (lodgepole pine, acrylic paint, ink) piece pictured was a collaboration with Scotty Craighead and Travis Walker.
Ongoing Mapping: Teton Urban Wilds Map (WIP), Digital Drawing, 18"X24"
I am developing the work I started at the Teton ArtLab Residency into a series of Greater Yellowstone Ecosystem maps in preparation for an October 2015 solo exhibition at Daly Projects in Jackson, WY.
View more work from Teton ArtLab residency here.