Hemlock Hospice Collaborators
The interdisciplinary Hemlock Hospice project was made possible by both leading Harvard scientists and an A-team of creative professionals with a wonderfully diverse set of skills and interests. The year-long project was collaborative in intent, process, and production. Beyond the artwork itself, the final project can be viewed as an allied exhibition of science, art, and design talent from across the country.
Jackie Barry with Black Armband Ecology WIP
Jackie Barry is an interdisciplinary artist focusing in works of fabric and drawings. Jackie received her B.F.A. in Printmaking/Book Arts from The University of the Arts in Philadelphia. Originally from the woods of southeastern Pennsylvania, she now live in the "Queen City of the Plains," Colorado. Her work resides at the intersection of the growing pains of someone still tethered to the analog realm, amidst a society participating in the digital realm, and the juxtaposition of the environment that surrounds them both. Jackie's work takes a variety of forms, whether it is flags littered with bullet holes, large-scale murals, or windsocks planted in tree-stumps.
Jack K Byers with Double Assault WIP
Jack Kohler Byers is a multidisciplinary artist/designer/illustrator based in Boston, MA.
Benjamin with Hemlock Hospice Terrarium WIP
Benjamin Carlson (born 1983) is an interdisciplinary artist currently living in Vermont. Working with alternative photographic processes, printmaking, drawing and bricolage, Carlson's practice considers the semiotics of sourced digital content and physical objects to explore representations of cultural, political, and scientific narrative. In addition to his studio practice, he maintains an independent design and illustration studio, started a DIY project space, and has worked for art institutions as a designer, and educator.
Michael Demaggio with field data ID stick
Michael Demaggio makes art, so you don't have to.
Aaron installing Double Assault WIP
Aaron M. Ellison is the Senior Research Fellow in Ecology in Harvard's Department of Organismic and Evolutionary Biology and Senior Ecologist at the Harvard Forest, and a semi-professional photographer and writer. He studies the disintegration and reassembly of ecosystems following natural and anthropogenic disturbances; thinks about the relationship between the Dao and the intermediate disturbance hypothesis; reflects on the critical and reactionary stance of Ecology relative to Modernism, blogs as The Unbalanced Ecologist, and tweets as @AMaxEll17. He is the author of A Primer of Ecological Statistics (2004), A Field Guide to the Ants of New England (2012; recipient of the 2013 USA Book News International Book Award in General Science, and the 2013 award for Specialty Title in Science and Nature from The New England Society in New York City), and Vanishing Point(2017), a collection of photographs and poetry from the Pacific Northwest). On weekends, he works wood.
Salvador posing with a budding Exchange Tree.
Salvador Jiménez-Flores is an interdisciplinary artist born and raised in Jalisco, México. Since coming to the United States, Jiménez-Flores has contributed to the Midwest art scene by producing a mixture of socially conscious installation, public, and studio-based art. He has presented his work at the National Museum of Mexican Art, Grand Rapids Art Museum, Urban Institute of Contemporary Art, and Casa de la Cultura in Jalisco, México amongst others. Recently, Jiménez-Flores finished a two year-long artist residency at the Harvard Ceramics Program, Office of the Arts at Harvard University. Also served as the Artist-In-Residence for the City of Boston.
Tim Lillis with World's Most (In)effective Bug Trap WIP
Tim Lillis runs the San Francisco-based creative studio, Narwhal Creative. The focus of Narwhal Creative is art direction, illustration, animation, graphic design, web design, and cycling apparel. The studio specializes in creative work for cultural and educational institutions, technology companies, maker-type things, the food and beverage industry, the publishing industry, and the outdoor industry.
CC McGregor with a lot WIP
CC McGregor is a Cambridge, MA-based photographer, and secret all-around fabrication support system.
Salua with Wayfinding Barrier No. 2
Salua Rivero is a third-year at New College of Florida enrolled in the environmental studies program with a minor in philosophy. Salua is interested in current environmental issues that face her local and global community. She is also interested in incorporating art into her passion for environmental topics. Her main focus in art is writing and photography but she likes to experiment with all forms of art including film, drawing, painting and design. During her time as a summer research intern at Harvard Forest, she created an art book as her final project while working on a bigger art project. As she continues her studies, she hopes to graduate in the summer of 2020 with her bachelors degree to continue working on projects that fuse both the environment and art. Besides studying, Salua is also interested in outdoor activities such as biking, hiking, camping, kayaking and more. She hopes to continue travelling around the globe to learn more about sustainability while creating art to share to the world.
Pennie Taylor's curatorial work in the Fisher Museum
Pennie Taylor is educator, game designer, and museum professional.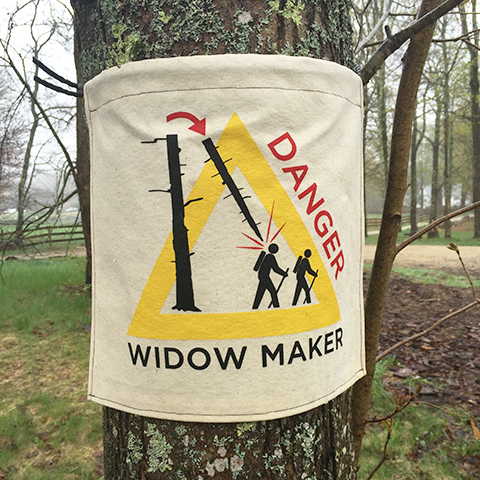 Hemlock Hospice silkscreen print with Trifecta Editions
Trifecta Editions is a print collective focused on producing innovative, top-quality, limited edition, affordable screen prints and art objects. We work with a diverse range of artists—from illustrators, comic artists, painters and printmakers to designers, sculptors, graffiti artists and architects.
Lisa with Hemlock Memorial Shed WIP
Lisa Ward is an artist and architect whose recent work focuses on the symbolism of objects left in the landscape and the relationship between place and identity. She is fascinated by cultural geology and how formal characteristics of the physical environment influence human psychology. Lisa explores these topics across various media - incorporating sound, video and illumination into large scale installation work.